Regional Outlook: Southeast Asia 2004-2005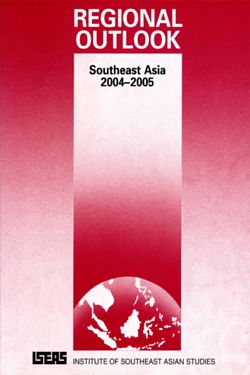 Date of publication:
2003
About the publication
Launched in 1992, Regional Outlook is an annual publication of the Institute of Southeast Asian Studies, published every January. Designed for the busy executive, professional, diplomat, journalist or interested observer, Regional Outlook provides a succinct analysis of current political and economic trends shaping the region, and the outlook for the forthcoming two years. This forward-looking book contains focused political commentaries and economic forecasts on all ten countries in Southeast Asia, as well as a select number of topical pieces of significance to the region.
Contents
Regional Outlook: Southeast Asia 2004–2005

I. POLITICAL OUTLOOK 2004–2005

The Asia-Pacific Security Environment, by Daljit Singh,

author

II. ECONOMIC OUTLOOK 2004–2005
THEMATIC HIGHLIGHTS (contained in the above sections)

U.S. Relations with the ASEAN States Post-Iraq War, by Derek da Cunha,

author

Indonesia's 2004 Election: Certainty in Uncertainty, by Leo Suryadinata,

author

The First Post-Mahathir General Election, by Lee Hock Guan,

author