Beyond Hanoi: Local Government in Vietnam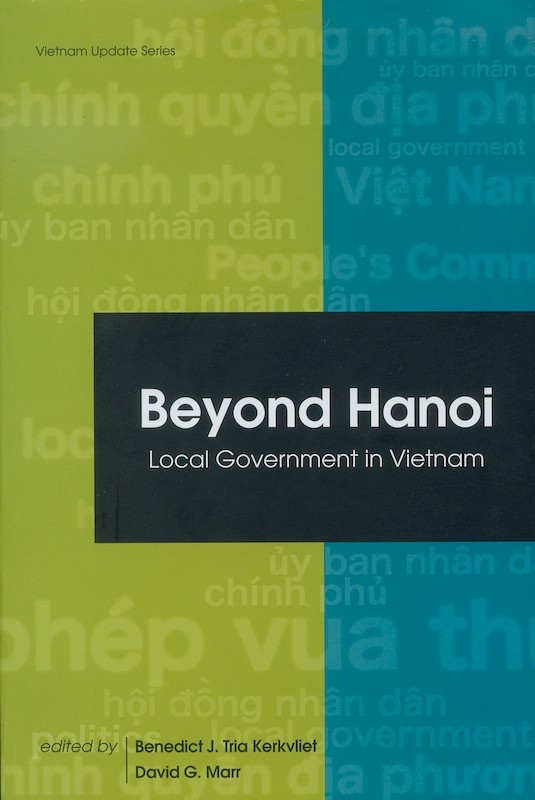 Date of publication:
2004
Review
"Governance in communist Vietnam, being a sensitive topic, has received relatively little attention from scholars. This volume, edited by Benedict Kerkvliet and David Marr, is thus to be welcomed. They observe that it was 'refreshing to be looking at the bottom up, rather than top down, as has so often been the case in the past'. It answers four distinct but interrelated questions. Which local institutions have authority to govern? Who are their officials, and how are they chosen? What are the competences of local levels of government? And what are the views of ordinary Vietnamese citizens regarding local administration? The editors and their contributors (from Vietnam and elsewhere) have certainly achieved this objective" (
Aseasuk News
).
"Beyond Hanoi: Local Government in Vietnam unveils a number of important themes including, amongst others, the continuation through Vietnam's history of the importance of the village as a unit of political manoeuvring; the lack of central control over lower-level political entities if the latter wish to modify or ignore the rules; and the limited appropriate training for lower-level civil servants in governmental positions. I was especially cheered to read chapters that covered the activities of ethnic minorities, albeit only two groups, a section of Vietnam's population that is often overlooked in edited collections on this country. In sum, this book is a valuable resource for anyone researching on or working in Vietnam or for those interested in comparative studies. I would heartfully recommend this book" (Urban Studies).
"While it is clear that the Communist Party of Vietnam (CPV) has strengthened its command over Viet Nam's political and economic life, our understanding of continuity and change in Viet Nam's local institutions of governance remains limited. Beyond Hanoi represents an important step toward addressing this gap. Most recent analyses of contemporary Viet Nam's politics and governance have been more or less sophisticated attempts to summarize national trends, with evidence from localities invoked only sporadically. Beyond Hanoi shows us the value of locally-grounded analysis. Clearly, international research on local governance in Viet Nam is still in its early stages of development. That said, Beyond Hanoi constitutes an important contribution to our understanding of local government in Viet Nam and I highly recommend it" (Asian Journal of Social Science).
About the publication
This is the first book in English to examine local government and authority in Vietnam since the country's reunification in 1975. Beyond Hanoi addresses four questions: what local institutions and offices have authority to govern; who are the local officials and how do they get their positions; what do local governments do and whose interests do they serve; and what do residents say about local officials and governing institutions?
Based on in-depth research, six chapters emphasize particular villages and districts in different parts of the country, one examines a ward in Hanoi, another focuses on Ho Chi Minh City, and one compares leaders in several provinces. To contextualize conditions today, two chapters analyse local government in Vietnams long history. The opening chapter synthesizes the findings in this book with those in other studies by researchers inside and outside Vietnam.

















Co-publication: ISEAS / NIAS
Institute of Southeast Asian Studies / Nordic Institute of Asian Studies
Contents
Beyond Hanoi: Local Government in Vietnam

2. A Brief History of Local Government in Vietnam, by David G Marr,

author

3. Village Government in Pre-colonial and Colonial Vietnam, by Martin Großheim,

author

4. Caught in the Middle: Local Cadres in Hai Duong Province, by Pham Quang Minh,

author

5. Winter Crop and Spring Festival: The Contestations of Local Government in a Red River Delta Commune, by Truong Huyen Chi,

author

6. Local Politics and Democracy in a Muong Ethnic Community, by Tran Thi Thu Trang,

author

7. Local Government in the Exercise of State Power: The Politics of Land Allocation in Black Thai Villages, by Thomas Sikor,

author

9. The Facilitators of Rural Transformation and Development: The Role of Agricultural Extension Officers in Two Districts of Long An Province, by Natalie Hicks,

author

10. Ho Chi Minh City's Post-1975 Political Elite: Continuity and Change in Background and Belief, by Martin Gainsborough,

author

11. Push, Pull and Reinforcing: The Channels of FDI Influence on Provincial Governance in Vietnam, by Edmund Malesky,

author

Glossary of Vietnamese Terms