Durga's Mosque: Cosmology, Conversion and Community in Central Javanese Islam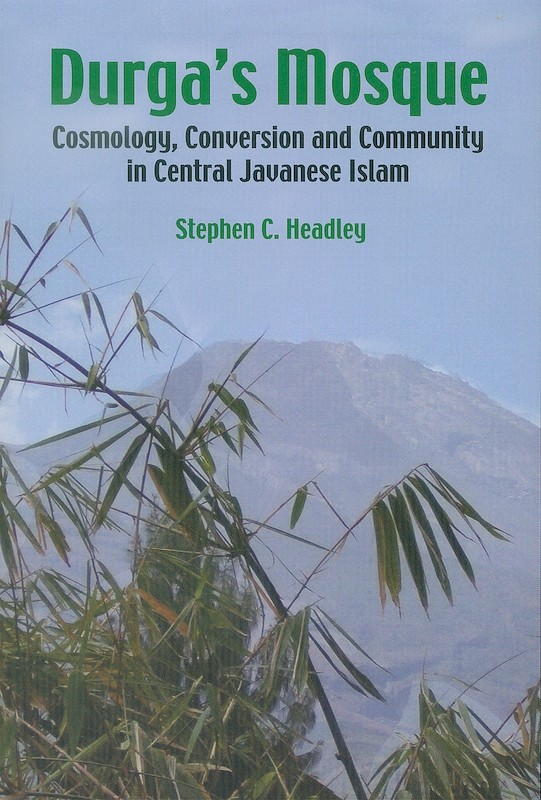 Date of publication:
2004
Publisher:
Institute of Southeast Asian Studies
Reviews
"... this monumental work by Headley is one of the most important and interesting publications on Javanese society within the last few decades. Without doubt,
Durga's Mosque
will be the standard for others in the coming years. Libraries in every university in this country, in particular, those libraries specializing in ethnology, cultural anthropology, sociology, Javanology, philosophy, and Islamic and/or religious studies must have this book in their collection" (
Minggu
).
"This important and insightful book describes processes of religious syncretism and change within the context of Java's ongoing Islamisation, combining in a unique style historical research with contemporary ethnography, itself centred all the more importantly, on the impacts of violence that erupted across the island following Soeharto's resignation in May 1998. The book offers a reflection on the ever shifting relations between indigenous traditions, Hindu-Buddhism and Islam in Central Java. Headley's fascinating and careful reading of 'the indigenisation of pure Islam' in Java is a study that I would recommend to all those working on issues of world religions' translations in local contexts in other parts of the world" (L'homme).
"Stephen C. Headley's Durga's Mosque makes a valuable contribution by providing a thickly described study of 'village Islam' in Central Java that reminds us in a compelling way that 'there is more to Islam than the Jakarta-centered national level' (26). At the same time, it also stresses the importance of recognizing that 'there is more to Javanese society than just Islam, and this 'more' despite being old is resilient' (429). This is an increasingly important point to be kept in mind by contemporary scholars confronting the issues raised by the recent and rapid 'Islamization' of various sectors of Indonesian society. This book is a monumental work of great richness in its presentation of an immense array of material ranging from cosmological conceptions and court ceremonial to domestic architecture and land tenure arrangements" (Indonesia).
About the publication
"For two decades now, Stephen C. Headley has been one of the most original and systematic ethnographers of Javanese religion and cultural history. No one in contemporary Javanese ethnography has combed through the annals of nineteenth and twentieth century scholarship with as careful an eye for the variety of Javanese traditions. None combines this historical ethnography with as careful and unusual body of contemporary ethnography.
Headley's new book brings these long-developed skills to bear on contemporary religious change in the Surakarta region of Central Java. In his analysis of the Durga ritual complex, Headley sheds light on one of the most unusual court traditions to have survived in an era of deepening Islamization. Headley's analysis of this ritual complex, and its implications for our understanding of popular Javanese religion, deserves to be read by all serious students of Java, as well as anyone interested in religion in Indonesia. However, Headley moves well beyond this unusual ritual complex, to take us through the twists and turns of religious culture and politics in what is one of the richest but also most troubled of cultural regions in Java. The result is a rich, multi-layered, and fascinating study, one that changes forever our understanding of Javanese tradition in a Java becoming Islamic."
Robert Hefner, Institute on Religion and World Affairs, Boston University.



Contents
Durga's Mosque: Cosmology, Conversion and Community in Central Javanese Islam
[Whole Publication, ISBN: 9789812305374]

1. Introduction: Cosmology, Conversion and Community in Javanese Islam

PART I: THE SOCIOLOGY AND PRACTICE OF RELIGION IN CENTRAL JAVA

1. Of Palaces and Placentas: The Praxis of Javanese Kindred

2. The Village "Kingdom": The Bed of Sri and the Realm of Sadana

3. Village Goddesses, Their Heirarchy and Clientele

4. Deterritorialization: The End of Peasant Livelihood

PART II: RECONSTRUCTION OF LOCAL RELIGIOUS HISTORY

5. Village Muslim Lineages: Local Genealogies in the Forest "Guardian of Death"

6. Village Maps for Royal LIneages: Paku Buwana VI in Durga's Forest

PART III: INVOKING THE COSMOS, MAGNIFYING ALLAH: STRUCTURING A LANDSCAPE IN THE SEVENTEENTH TO NINETEENTH CENTURIES

7. The Khandava Forest in India and Its Javanese Demon Queen

8. The Spearing of Durga's Buffalo

9. Invoking the Goddess Durga; Worshipping Allah

10. The Javanization of Islamic Prayer; The Islamization of Javanese Prayer

11. Javanese Cosmologies and Muslim Cosmographies: An Encompassing Knowledge?

PART IV: COSMOLOGY, CONVERSION AND COMMUNITY IN CENTRAL JAVANESE ISLAM TODAY

12. Jihad in Java: An Islamic Appropriation of Individualism

13. Of Sacred Wells and Shopping Malls: Glimpses of the Reconstruction of Social Confidence in Solo after Soeharto

14. The Social Reconstruction of Confidence: Community and Islam in Surakarta Today

15. Enclosing Cosmologies and Elective Citizenship