From Pakatan Harapan to Perikatan Nasional: A Missed Opportunity for Reforms for East Malaysia?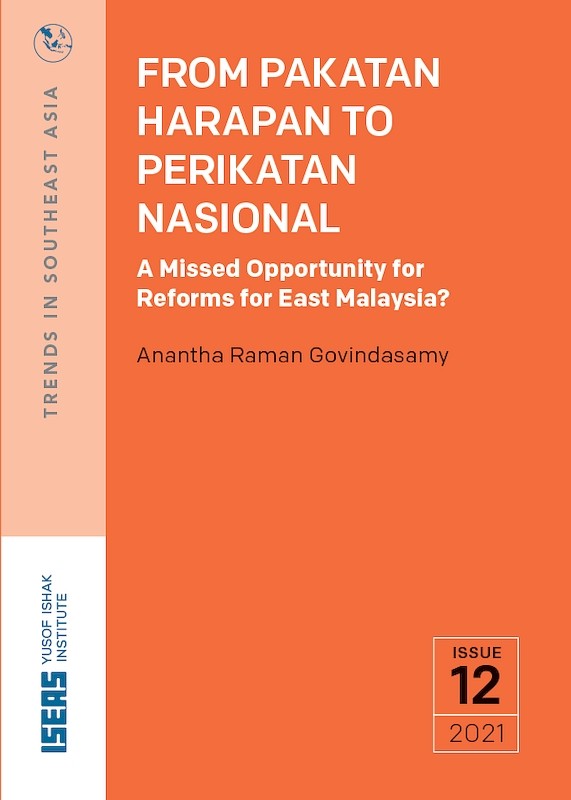 Date of publication:
2021
Publisher:
ISEAS – Yusof Ishak Institute

Ebook is available
About the publication
The Malaysia Agreement 1963 (MA63) brought together Peninsular Malaya with the East Malaysian states of Sabah and Sarawak. This Agreement afforded certain rights and obligations to these two states, notably in areas such as religion and language, financial autonomy, immigration, judicial autonomy, and finance and tax issues.
However, since the signing of this foundational treaty, East Malaysians have become discontented. Key frustrations include a gradual erosion of the stipulated privileges by the federal government, persistent underdevelopment, as well as the perceived unequal distribution of petroleum revenue earned from these states.
When Pakatan Harapan came to power in 2018, there were expectations from Sabah and Sarawak that the new administration would be committed to the restoration of East Malaysia's special position within the Malaysian Federation.
In order to address long-standing tensions, Pakatan Harapan established a Special Cabinet Committee on MA63 to look for new ways of restoring East Malaysia's prerogatives.
The Special Cabinet Committee managed to resolve seventeen out of twenty-one issues pertaining to the economy, finance and the judiciary.
However, the most complex issues pertaining to the sharing of oil revenue were outstanding. One key outcome was that the Committee proposed a constitutional amendment to recognize Sabah, Sarawak and Peninsular Malaysia as equal partners in the Federation. However, the proposed amendment did not garner the necessary two-thirds majority in parliament. A bloc of parliamentarians allied with the Gabungan Parti Sarawak—a coalition of Sarawak-based parties formerly aligned with ousted national coalition Barisan Nasional—abstained from voting.
Since the advent of the Perikatan Nasional administration, the broader issue of East Malaysian rights has received little attention. It is likely that, rather than seeking to address the fundamental tensions between the Peninsula and East Malaysia, the current administration will seek to offer targeted benefits to elites from the region.
Contents
From Pakatan Harapan to Perikatan Nasional: A Missed Opportunity for Reforms for East Malaysia?
[Whole Publication, ISBN: 9789814951937], by Anantha Raman Govindasamy,

author