Speaking Out in Vietnam: Public Political Criticism in a Communist-Party Ruled Nation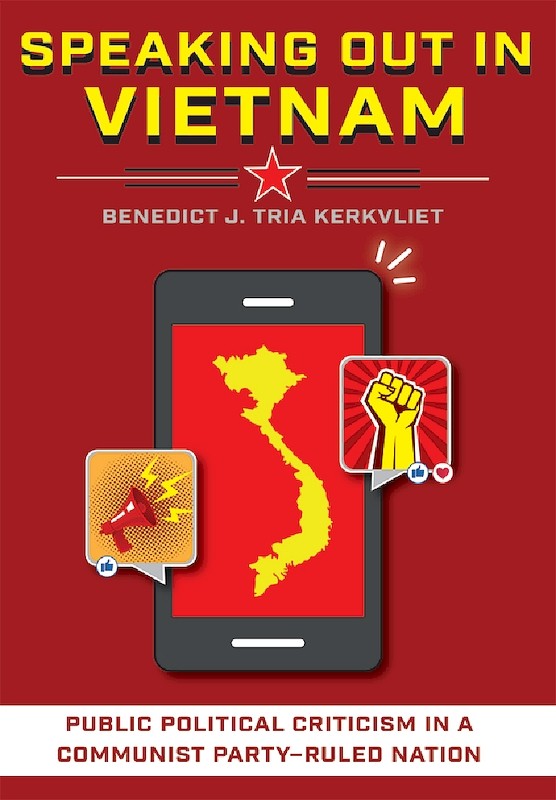 Date of publication:
2019
Publisher:
Cornell University Press / ISEAS – Yusof Ishak Institute
Review
Thaveeporn Vasavakul, Contemporary Southeast Asia, Dec 2019.
"In looking at recent socio-political developments in Vietnam, Benedict J. Tria Kerkvliet's
Speaking Out in Vietnam: Public Political Criticism in a Communist Party-Ruled Natio
n confirms that the practice of speaking out publicly remains a prominent and persistent political feature of Vietnam's one-party system in the reform era.
Speaking out in Vietnam presents a dynamic account of citizens speaking their minds, drawing information from the liberalized Vietnamese press, Internet-based resources and direct interviews. The study of labour strikes is based on over 900 Vietnamese news reports, while the analysis on land demonstrations consults wide-ranging sources including villagers' letters, land complaints filed by lawyers, villagers' interviews given to journalists, journalists' own accounts and authorities' commentaries. The account of anti-China activism relies on more than 600 sources including Vietnamese blog sites and news outlets, while the discussion of democracy and human rights advocacy makes use of critics' own writings on the Internet. Speaking Out in Vietnam also offers insights gained from interviews with certain groups of critics over the years.
Speaking Out in Vietnam is a welcome contribution and an eye-opening read for anyone familiar with Vietnam as well as those less so. It not only conveys the voices of citizens protesting state policies but also invites reflection on the pairing of consent and repression as instruments of rule."
About the publication
Since 1990 public political criticism has evolved into a prominent feature of Vietnam's political landscape. So argues Benedict J. Tria Kerkvliet in his analysis of Communist Party–ruled Vietnam.
Speaking Out in Vietnam
assesses the rise and diversity of these public displays of disagreement, showing that they have morphed from family whispers to large-scale use of electronic media.
In discussing how such criticism has become widespread over the last three decades, Kerkvliet focuses on four clusters of critics: factory workers demanding better wages and living standards; villagers demonstrating and petitioning against corruption and land confiscations; citizens opposing China's encroachment into Vietnam and criticizing China-Vietnam relations; and dissidents objecting to the party-state regime and pressing for democratization. He finds that public political criticism ranges from lambasting corrupt authorities to condemning the repression of bloggers to protesting about working conditions. Speaking Out in Vietnam shows that, although we may think that the party-state represses public criticism, in fact Vietnamese authorities often tolerate and respond positively to such public and open protests.
Co-publication: Cornell University Press / ISEAS – Yusof Ishak Institute
ISEAS edition is for distribution in ASEAN countries