ISEAS at 50: Understanding Southeast Asia Past and Present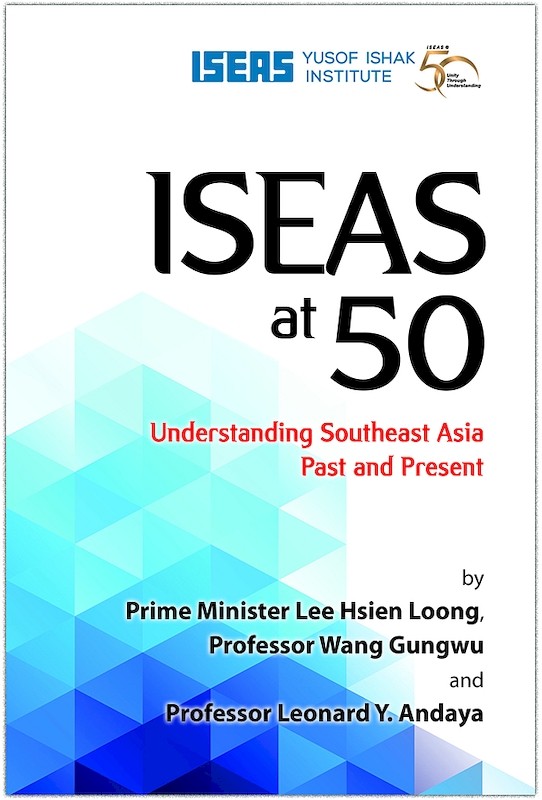 Date of publication:
2018
Publisher:
ISEAS – Yusof Ishak Institute

Ebook is available
About the publication
2018 marks the 50th anniversary of the ISEAS – Yusof Ishak Institute. The Institute of Southeast Asian Studies, as it was then called, was established in 1968 by then Deputy Prime Minister Dr Goh Keng Swee in order to enable the newly independent city-state better understand the region and its complexities. Since its establishment, ISEAS has dedicated itself to researching the political, economic and socio-cultural dynamics and trends in Southeast Asia for policymakers, scholars, and other relevant stakeholders. On 12 August 2015, the Institute was officially renamed ISEAS – Yusof Ishak Institute, in honour of Singapore's first President.
This book presents three public lectures given to commemorate the Institute's Golden Anniversary. Professor Leonard Y. Andaya delivered the first lecture entitled "Developments in the Scholarship of Southeast Asia" on 21 February 2018. The second public lecture was delivered by Prime Minister Lee Hsien Loong on 13 March 2018. Professor Wang Gungwu delivered the final public lecture entitled "Before Southeast Asia: Passages and Terrains" on 3 October 2018. Collectively, these three public lectures exhort ISEAS to continuously reflect on its research agenda, the region, as well as the contemporary landscape and challenges it has to operate in.
Contents
Preliminary pages with Introduction by ISEAS Director, Mr Choi Shing Kwok

50TH ANNIVERSARY PUBLIC LECTURE BY PROFESSOR LEONARD Y. ANDAYA ON 21 FEBRUARY 2018

Developments in the Scholarship of Southeast Asia (with Opening Remarks by Professor Wang Gungwu), by Leonard Y. Andaya,

author

50TH ANNIVERSARY PUBLIC LECTURE BY PRIME MINISTER LEE HSIEN LOONG ON 13 MARCH 2018

ISEAS 50th Anniversary Lecture (with Opening Remarks by Professor Wang Gungwu), by Lee Hsien Loong,

author

50TH ANNIVERSARY PUBLIC LECTURE BY PROFESSOR WANG GUNGWU ON 3 OCTOBER 2018

Before Southeast Asia: Passages and Terrains (with Opening Remarks by Professor Barbara Andaya), by Wang Gungwu,

author