The State-Owned Enterprise Reform in Vietnam: Process and Achievements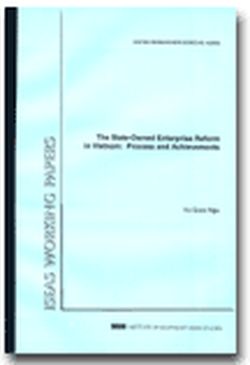 Date of publication:
2002
Publisher:
Institute of Southeast Asian Studies
About the publication
This paper reviews and empirically assesses the SOE (state-owned enterprise) reform process along with the general economic reform in Vietnam for the 1976-98 period. It concludes that reform measures appear to have had positive effects on enhancing the SOE economic performance. This is reflected by an average annual TFP (total factor productivity) growth rate of 3.05 per cent over the whole period studied and of 4.22 and 5.37 per cent during the partial and full reform periods, respectively. For the entire study period, TFP accounts, on average, for 40.9 per cent of the change in industrial SOE output. In spite of these achievements, many problems remain, which need to be addressed for the on-going SOE reform process in Vietnam.

Contents
The State-Owned Enterprise Reform in Vietnam: Process and Achievements


[Whole Publication]