Changing Agrifood Markets in Southeast Asia: Impacts on Small-Scale Producers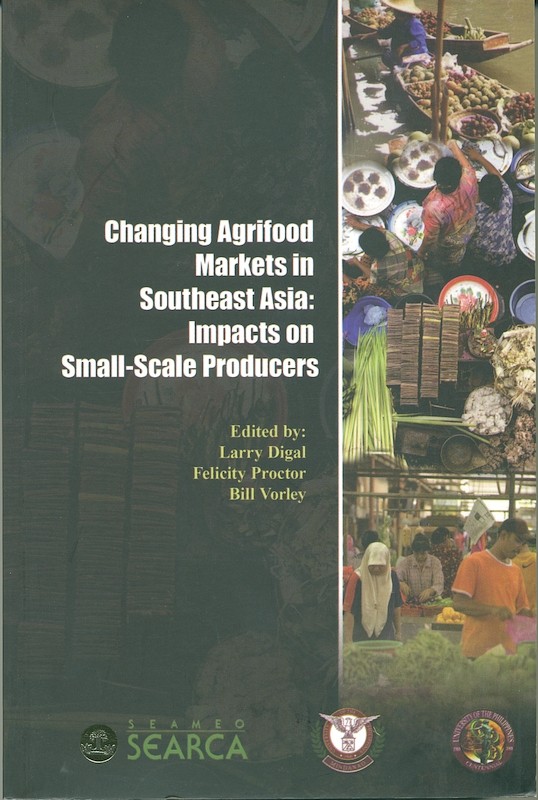 Date of publication:
2009
Publisher:
ISEAS / SEARCA
About the publication
Agrifood markets are in an unprecendented state of flux, and are generating intense policy debate worldwide. The primary drivers are market liberalization, a reduced role of the state and shifts into market-driven policy, changes in consumer preferences and purchasing power rising energy and food prices, climate change and its implications, and the modernization of food processing and retail itself. The modernization of retail has been accompanied in some cases by political turmoil, especially in India where local traders and farmers feel a threat to their livelihoods. Market modernization offers increased economic opportunities for producers including small-scale producers and small and medium scale enterprises, consumers and other actors in the food chain. This book is based in the work of the Regoverning Markets Programme (2005-2008), an intensive multi-partner collaborative research and policy support program. The Programme examines the keys to inclusion into agrifood systems under different degrees of restructuring. It works on deepening the research on implications and opportunities for small-scale producers and SMEs. It tries to understand what is the practice in connecting small-scale producers with dynamic markets and brings these findings into the wider policy arena. Overall, the programme provides strategic advice and guidance to the public sector, agrifood chain actors, civil society organisations and development agencies and approached that can anticipate and manage the impacts of the dynamic changes in local and regional markets. While the program covers nine regions in the world, this book covers only the research done in Southeast Asia.
Co-publication: ISEAS / SEARCA
Published by Southeast Asian Regional Center for Graduate Study and Research in Agriculture (SEARCA), Philippines. Available exclusively from ISEAS for worldwide distribution.