Contemporary Southeast Asia
About CSEA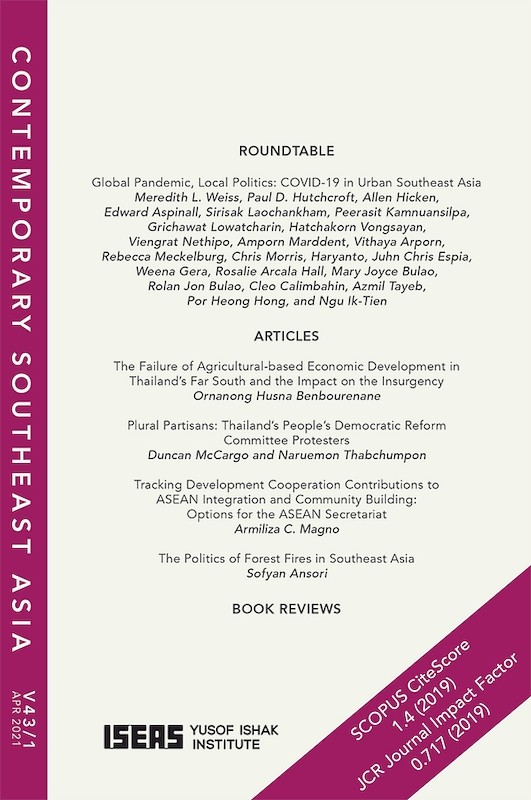 Contemporary Southeast Asia (CSEA) is one of the ISEAS – Yusof Ishak Institute's flagship publications. Now in its fourth decade of publication, CSEA has succeeded in building up an international reputation as one of Southeast Asia's premier academic journals. The aim of the peer reviewed journal is to provide subscribers with up to date and in-depth analysis of critical trends and developments in Southeast Asia and the wider Asia-Pacific region. The primary focus of the journal is on issues related to domestic politics in Southeast Asian countries, regional architecture and community building, military, strategic and security affairs, conflict zones and relations among the Great Powers. CSEA publishes authoritative, insightful and original contributions from scholars, think-tank analysts, journalists and policy-makers from across the globe. The Editorial Committee is guided by the advice of the International Advisory Committee which is composed of eminent scholars from Asia, the United States, Australia and Europe.
Publication Frequency: three times a year (April, August and December).
Attained SCOPUS CiteScore of 1.4 in 2019.
Attained Journal Citation Report (JCR) Journal Impact Factor of 1.3 in 2020.
SCImago Journal and Country Rank (SJR) 2019 for the Asiatic Region: Ranked 1st in Political Science and International Relations; 1st in History; and 3rd in Arts and Humanities.
Ranked 19th by Google Scholar Metrics 2020 in the category of "Asian Studies and History".
Contemporary Southeast Asia (CSEA) is indexed in the following:
Social Sciences Citation Index (SSCI)
SCOPUS
International Bibliography of Periodical Literature on the Humanities and Social Sciences (IBZ)
International Bibliography of Book Reviews of Scholarly Literature on the Humanities and Social Sciences (IBR)
Sage Public Administration Abstracts
PAIS International
Contents Pages on Asia (INSEAD)
World Affairs Online
International Political Science Abstracts
Ingenta
EBSCO Publishing
Sociological Abstracts
ProQuest Information and Learning
Gale Group
ISI Emerging Markets
Editorial Committee
Chairperson
Editors
Assistant Editors
Khairulanwar Zaini
Joel Chong
Editorial Committee
Malcolm Cook
Le Hong Hiep
Daljit Singh
Ian Storey
Leo Suryadinata
Copy Editor
International Advisory Committee
Dewi Fortuna Anwar, Indonesian Institute of Sciences
Alice Ba, University of Delaware
Nick Bisley, La Trobe University
David Capie, Victoria University of Wellington
Sophal Ear, Arizona State University
Jürgen Haacke, London School of Economics and Political Science
Kuik Cheng-Chwee, National University of Malaysia
Joseph Chinyong Liow, Nanyang Technological University
Maung Aung Myoe, International University of Japan
Duncan McCargo, Nanyang Technological University
Marcus Mietzner, Australian National University
Shaun Narine, St. Thomas University
Pham Quang Minh, Vietnam National University-Hanoi
Subscription Rates
Singapore, Malaysia, Brunei
Individual: 87.00 SGD
Institution: 137.00 SGD
Asia, Australia, New Zealand, Japan
Individual: 59.00 USD
Institution: 92.00 USD
Europe, North America, South America, Africa, Middle East
Individual: 71.00 USD
Institution: 113.00 USD
Note: Annual subscription rates include electronic delivery as well as the printed copy by air.
Submissions
The Editors invite submission of manuscripts in the politics, security, political economy and international relations of Southeast Asia (defined as the 10 ASEAN member states and Timor-Leste). Manuscripts should be double-spaced and between 6,000–8,000 words, exclusive of endnotes. Manuscripts should be in Word-format and should be sent electronically to the e-mail address below. CSEA uses endnotes and follows the rules set out in Chapter 15 of the Chicago Manual Style, 12th edition. Authors should use British English. CSEA does not accept manuscripts that have already been published or are simultaneously being considered for publication elsewhere. Manuscripts accepted for consideration will be refereed by external readers.
The Editor
Contemporary Southeast Asia
ISEAS – Yusof Ishak Institute
30 Heng Mui Keng Terrace
Singapore 119614
Enquiries and correspondence about editorial matters can be sent to the Editor at: csea@iseas.edu.sg
Book Reviews
Publishers can send books for review to:
Book Review Editor
Contemporary Southeast Asia
ISEAS – Yusof Ishak Institute
30 Heng Mui Keng Terrace
Singapore 119614