Journal of Southeast Asian Economies
About JSEAE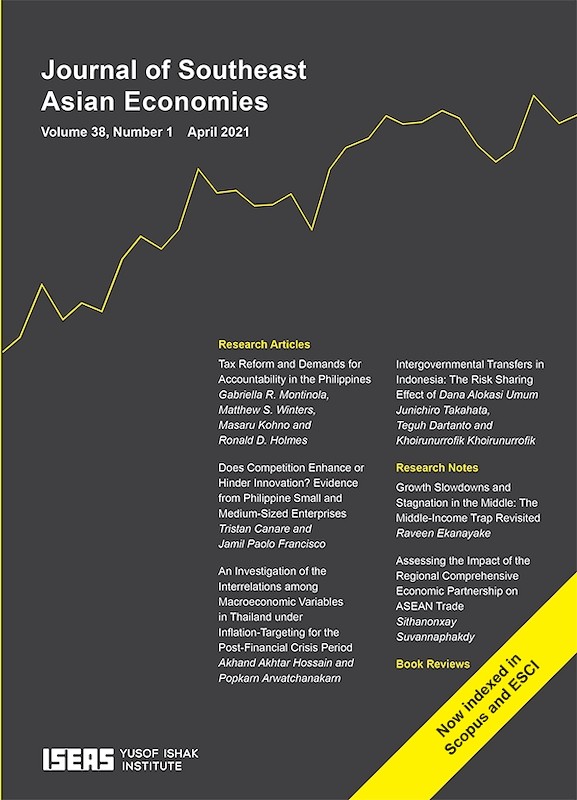 The Journal of Southeast Asian Economies (JSEAE) is a peer-reviewed journal focusing on economic issues pertaining to countries in the region – defined as the ten members of the Association of Southeast Asian Nations (ASEAN) and East Timor. JSEAE welcomes articles using orthodox economic approaches as well as those of a more heterodox nature. Oriented at both researchers and policy-makers, the journal seeks to reconcile the ideals of relevance, methodological rigour, and accessibility.
Published by the ISEAS – Yusof Ishak Institute tri-annually, JSEAE includes: articles based on original research; research notes; review articles; and book reviews. Once a year, the Journal publishes a Special Issue devoted entirely to a topic of import for the region.
Up until April 2013, JSEAE was published as the ASEAN Economic Bulletin (AEB). However, following new developments in the regional and global context, as well as the establishment of new multi-lateral trading agreements including countries in the region, the Directorship of ISEAS and AEB's Editorial Board decided to change the journal's name. While its name has changed, JSEAE remains committed to being the premier economic journal for Southeast Asian academicians and policy-makers, as well as anyone with an interest in the region.
All research articles in the journal have undergone rigorous peer-review. The process consists of initial screening by the Co-Editors and Associate Editor, followed by double-blind refereeing; two reviewers for articles and one reviewer for research notes.
Publication Frequency: three times a year (April, August and December)
E-ISSN: 2339-5206; Print ISSN: 2339-5095
Journal of Southeast Asian Economies is indexed in the following:
Asian-Pacific Economic Literature
CAB Abstracts
Contents Pages on Asia (INSEAD)
EBSCO Publishing
Emerging Sources Citation Index (ESCI)
Expanded Academic Index/ASAP
International Bibliography of Book Reviews
International Bibliography of Periodical Literature
International Bibliography of the Social Sciences
International Serials Database
Journal of Economic Literature
PAIS International
PAIS Select
Periodical Abstracts
ProQuest Direct
Sage Public Administration Abstracts
SCOPUS
Uncover
Editorial Committee
Chairperson
Managing Editors
Francis E. Hutchinson
Cassey Lee
Co-editors
Hwok Aun Lee
Tham Siew Yean
Siwage Dharma Negara
Krislert Samphantharak
Jayant Menon
Associate Editor
Production Editor
International Advisory Committee
Professor Anne Booth, University of London, UK
Professor Hal Hill, The Australian National University, Australia
Professor Fukunari Kimura, Keio University, Japan
Dr Le Dang Doanh, Central Institute for Economic Management, Vietnam
Professor Michael G. Plummer, Johns Hopkins University, Italy
Professor Euston Quah, Nanyang Technological University, Singapore
Professor Ramkishen S Rajan, George Mason University, USA
Dr Razeen Sally, Lee Kuan Yew School of Public Policy, NUS, Singapore
Dr Juzhong Zhuang, Asian Development Bank, Philippines
Associate Professor Sean Turnell, Macquarie University, Sydney
Dr Shahid Yusuf, Chief Economist, The Growth Dialogue, George Washington University
Subscription Rates
Singapore, Malaysia, Brunei
Individual: 82.00 SGD
Institution: 130.00 SGD
Asia, Australia, New Zealand, Japan
Individual: 76.00 USD
Institution: 140.00 USD
Europe, North America, South America, Africa, Middle East
Individual: 94.00 USD
Institution: 175.00 USD
Note: Annual subscription rates include electronic delivery as well as the printed copy by air.
Submissions
Submissions are invited from all scholars. We particularly encourage submissions from young professionals, including those who have recently completed their PhD or are at an advanced stage in their doctoral research. Articles should be of contemporary economic interest and have clear policy relevance. They should be pertinent to Southeast Asian countries or regional economic groupings such as the Association of Southeast Asian Nations (ASEAN).
For full research articles, each manuscript should be between 7,000 and 8,000 words in length, while research notes should be between 4,000 and 5,000 words. In addition to topical relevance, authors are also responsible for ensuring that their submissions meet high standards of English (i.e., the manuscripts should be clear, well-articulated and comprehensible). The JSEAE Editorial Board reserves the right to decline submissions that do not meet the journal's language standards. The broad format should be scholarly but tables, figures, citations, endnotes, and quotations should be kept to a minimum level essential for the analysis or descriptions intended. All submissions must be accompanied by an abstract of approximately 200 words that offers a broad summary of the manuscript. Specifically, authors should include the purpose, approach, results and implications of the research, while avoiding uncommon abbreviations and reference citations. The abstract should be comprehensible to readers before they have read the complete article. This must be followed by four to five relevant keywords in a separate paragraph.
The manuscript should be submitted as softcopy in Microsoft Word format. Bibliographical references should be incorporated into the text using the author-date system, with page numbers where appropriate. Notes should be kept to a minimum and numbered consecutively throughout the text. Illustrations, charts, tables and figures must be black and white compatible. Charts and tables must be accompanied by their respective original data sets provided for in Microsoft Excel format. All references should be listed alphabetically at the end of the article. For journal articles, the volume and issue number, month and year of publication and inclusive page numbers should be provided. Please follow the detailed submission guidelines listed in the Note to Contributors.
Submissions to the journal should be original contributions and should not be under consideration by any other publication. They are subject to external double-blind refereeing.
Editorial correspondence and contributions should be directed to:
The Editors
Journal of Southeast Asian Economies
ISEAS – Yusof Ishak Institute
30 Heng Mui Keng Terrace
Singapore 119614
E-mail: jseae@iseas.edu.sg
Book Reviews
Publishers can send books for review to:
Book Review Editor
Journal of Southeast Asian Economies
ISEAS – Yusof Ishak Institute
30 Heng Mui Keng Terrace
Singapore 119614